A perfect way to keep your large breed doggo chewing happily and entertained is by offering them Dogsee Chew's long-lasting dog treats. These natural dog chew sticks are made from the finest cheese from the Himalayas. They owe their hardness to being smoke and sun-dried for over 35 days. Your dogs are sure to love munching on them. They also help in lowering the chances of plaque and tartar build-up and freshen breath making them the best cheese sticks online.
Key Benefits
Acts as the perfect chewy pastime for a long time.
Helps prevent plaque and tartar buildup.
The rich, cheesy flavor helps keep breath fresh.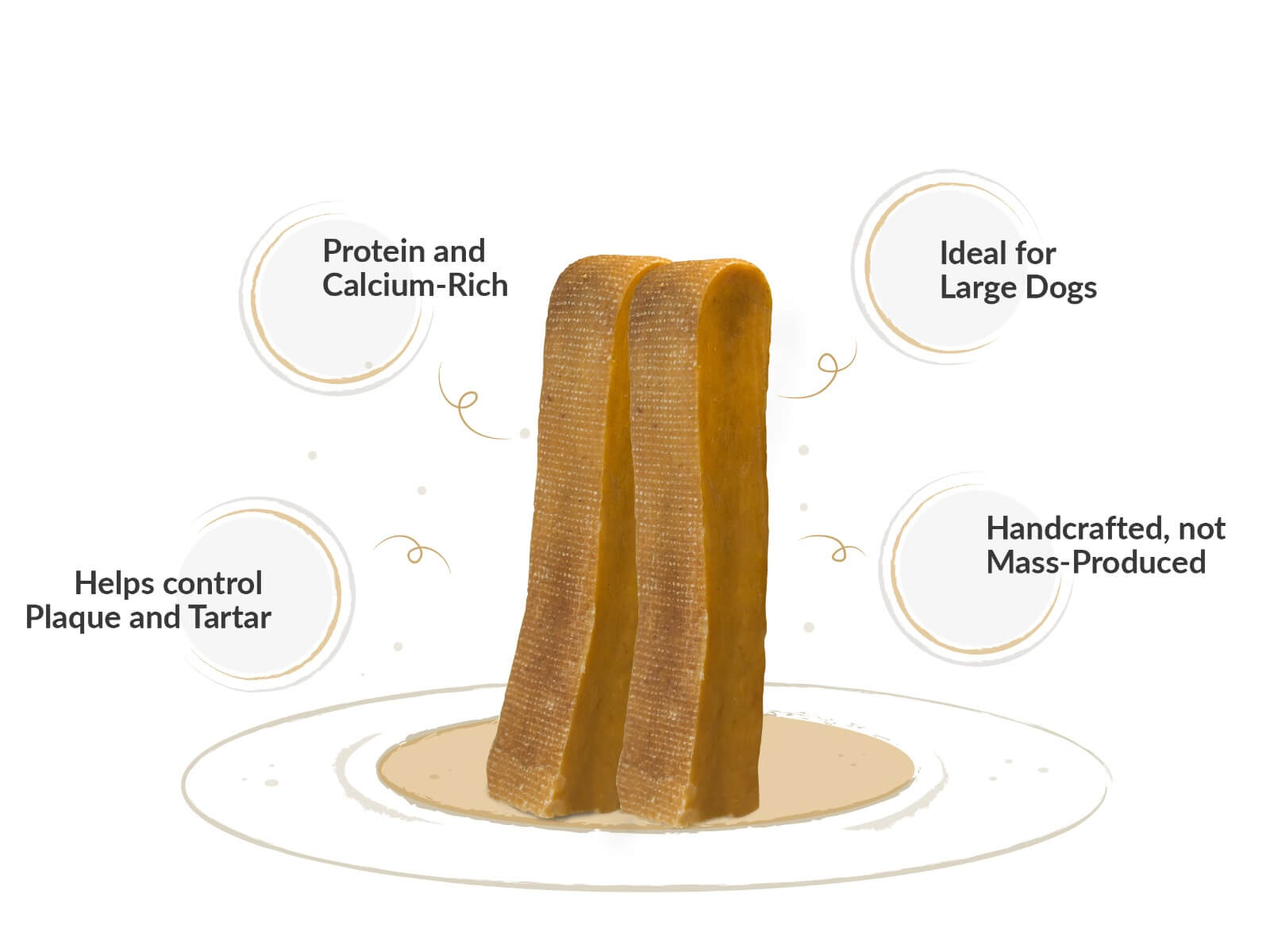 The simple 3-ingredient recipe includes:
Milk. A dash of lime. A pinch of salt.

Crude Protein: Min 59.2% Crude Fat: Min 5.2% Moisture: Max 10% Fiber: Max 5.9%

Compared to rawhides, antlers, and bully sticks, these chews are healthier alternatives - These Himalayan cheese chew treats are 100% natural and high in nutrition (59.2% protein and 5.2% fat). Being completely free from preservatives, added colours and chemicals, they are in stark contrast to the unhealthy rawhides which are processed with harmful chemicals. These treats become soft on chewing on them, so they're good for your dog's teeth and gums, as compared to antlers which are very hard.

---
Reviews
Prasoon Malhotra
1 year ago

This product is worth the money spend as it's all-natural and has no preservatives at all. Your dog is surely going to love these.

Antara Das
1 year ago

My 4 months old shepherd, loves these chews post his lunch feed. The chew bars are packed with nutrients that is great for his growth as well. My dog is a happy champ now.

Sugam Agrawal
1 year ago

My dog loves it very much.It is a good blend of all essential nutrients. They also took care of taste which makes it a great product for dog. I use it as a reward for my dog when he acts nicely and I must say now it really easy to teach new tricks :)

Mummani Rajeswari
1 year ago

My adult lab loves it.Good packaging nd flavour. My pom likes it too,but its a lil hard for him to digest.He finds it hard to eat after 2-3days of continuous feed.But its a perfect food my Lab.

Rohit Bansal
1 year ago

My dogs made lot of difference in terms of muscle built fur n health. For best taste give them gravy mix of pedigree along with this food. I'm sure your dogs will love it.

Raman Agnihotri
1 year ago

My golden retriever loves it

Gadela Suma
1 year ago

It is awesome product.i was little scared due to some reviews having torn sack or damaged product.guys it is all here in front of u.u can buy it without any hesitation.place the order blind eyes.awesome

Shipra Singh
1 year ago

Good!!! my pet loves it.

Saisree Ganta
1 year ago

Must say ..go for it ..your pet surely gona love it , price is also les

Aditya Verma
1 year ago

I order it regularly. Always arrive on time and it is what I expected it to be.

Pallab Dutta
1 year ago

I purchased it for the first time for my dog and she loved it.